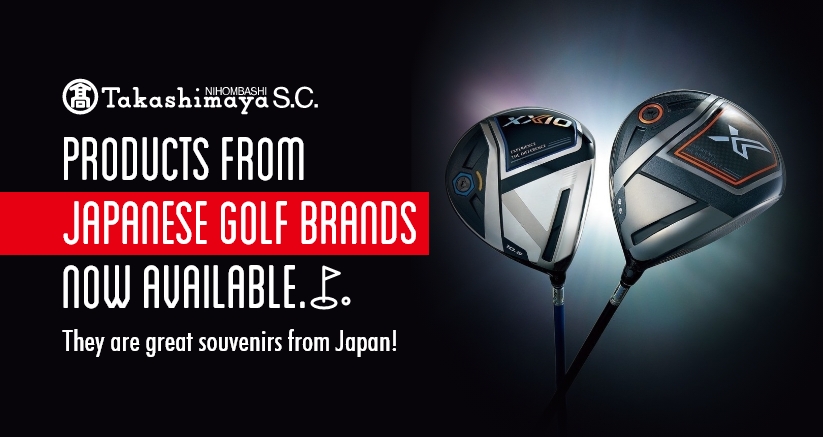 Venue
Nihombashi Takashimaya S.C. main building, 5th floor
---
XXIO, Popular brand in Japan
XXIO Eleven and XXIO X, the 11th-generation of XXIO golf clubs, are now available!
The XXIO series finally sees the arrival of its 11th-generation lineup!
These upgraded clubs allow you to achieve great distances without relying just on rebound performance.
They were developed to achieve outstanding carry while naturally supporting an ideal top-of-swing position for more power.
Greater carry is enabled by applyed technology of "principle of leverage". This technology features a 10-gram weights in the butt-end of each shaft, leading to a natural, ideal top-of-swing position for more power.
There are two series in the latest, 11th-generation XXIO: XXIO Eleven and XXIO X. XXIO Eleven enables you to gently hit a long ball, recommended for XXIO lovers. XXIO X is a departure from previous XXIO models. This series is recommended for competitive golfers and XXIO lovers!
---
High-tech clubs from Ryoma Golf!
A further evolution of DSI Technology, a highly acclaimed technology featuring an innovative structure that enables you to achieve incredible distances!
It helps golfers hit with a high initial speed, high launch, and low spin.
The combination of the evolved head and the BEYOND Shaft developed by Ryoma Golf, helps you achieve greater carry while controlling direction.
*What is DSI Technology?
DSI is Deep & Strong Impact, a Ryoma Golf design concept. The ultrathin Power Spring Body club head significantly deforms and subsequently springs when impacting the ball. This enables efficient transmission of the player's swinging force to the ball. In addition, the Speed Cup Face with its wide sweet spot helps increase the initial speed.
*What is BEYOND Shaft?
It is a special design originally developed by Ryoma Golf.
The shaft flex is infinite, meaning that the shaft bows to a different degree according to the head speed of the player. This shaft design harmonizes with the swings of a wide range of players, regardless of age or gender.
Irons featuring DSI Technology have also been launched!
You can try out in the indoor hitting bay. Don't miss it!
*Stocks are limited.
*Photos are for illustrative purposes only.

---
VIEW ALL TOPICS