Takashimaya Craft Beer Festival and Recommended Meat Fair
Period
From Wednesday, November 20th to Monday, November 25th
* Closed at 5 p.m. on the final day
Venue
Osaka Store 7F Event Hall
---
"For meat and beer lovers!"
The "Recommended Meat Fair" offers dine-in and performances of popular and tasty meat-based dishes from 14 stores recommended by Takashimaya.
The "Takashimaya Craft Beer Fair" is a showcase of around 100 varieties of draught craft beer from 33 breweries around Japan, all under one roof. Visitors can enjoy drinks for 500 yen (including tax) each, and a wide range of beer to go will also be available.
---
Recommended Meat Fair
Yakiniku Shokudo Takumi
Flavorful Takumi Special (each) 1,000 yen + tax
Combined the sirloin of Oita Wagyu beef with blended rice limited to Takashimaya.
Teppan Kappou Murakumo
Wagyu beef steak and Ebi-imo foie gras (each)1,000 yen + tax
A dish of Roasted Beef Steak. Serve with Ebi-imo made with foie gras miso-dengaku.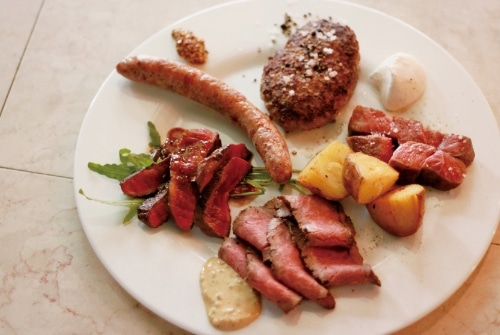 Matasaburo ※Eat-in
〔Takashimaya Osaka Limited〕Matasaburo's all-star assorted meat plate(each)3,500 yen + tax
A comparison of tasting Wagyu beef and Grass-fed cattle. Serve with aged Frankfurt sausage.
Kitashinchi Pork Cutlet epais ※Eat-in
〔Takashimaya Osaka Limited〕epais exclusive set(each)1,200 yen + tax
The most recommend restaurant which published in famous gourmet guide.
---
Takashimaya Craft Beer Festival
From all over Japan, 33 breweries from Hokkaido in the north and Okinawa in the South, gather around 100 kinds of draft beer! enjoy the different taste and find your favorite one!
…etc.
---
*Số lượng sản phẩm có hạn.
*Tên và các nội dung của hội chợ, bao gồm thời gian diễn ra, có thể được thay đổi.
*Hình ảnh chỉ được sử dụng nhằm mục đích minh họa.
*Last orders for dine-in food will be 30 minutes before closing, and 15 minutes before closing for craft beer.
*Craft beer sales are based on a ticket system (500 yen per ticket, approximately 200ml per drink
*Please enjoy the foods and beer inside the store only.
*We do not sell alcohol to persons under 20 years of age.
*Providing alcohol to anyone under the age of 20 is prohibited by law.

---
หัวข้อทั้งหมด