Venue
Basement 1st Floor Food hall of Takashimaya, Shinjuku
[Domaine Leroy]
1988 Clos de Vougeot (750mL) 800,000 yen+tax
A rare wine prepared with biodynamic grapes in Leroy's vineyards.
[Tatenokawa]
Junmai daiginjo Kyokugen (720 mL) 20,000 yen+tax
Among the most refined sake ever made. Its polishing ratio (8%) helps to create a sophisticated taste.
[Tatenokawa]
Junmai daiginjo Eighteen (720mL) 10,000 yen+tax
Highly fragrant, gorgeous sake prepared from the best part of the sake pressing: nakadori (middle-cut). The polishing ratio is 18%.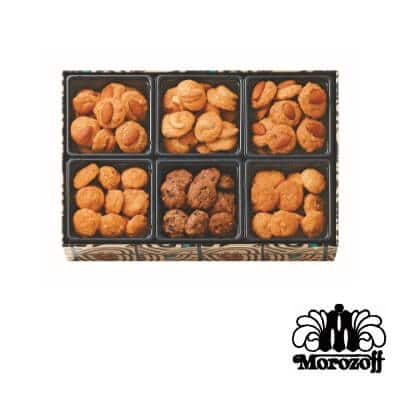 [Morozoff]
Arcardia (270g) 1,500 yen+tax
Arcardia has been beloved by many since its launch in 1971. All the nuts, exclusively selected from around the world, are roasted slowly at our factories. The combination of the nuts and dough that contains egg white makes these cookies crunchy and aromatic.
[YOKU MOKU]
Cigare Chocolate (18 pieces) 1,800 yen+tax
Cookie dough that contains a generous amount of butter is baked, rolled into a cigar shape and filled with milk chocolate. Enjoy the crunchy texture and subtle sweetness that spreads in your mouth.
[Bankaku Sohompo]
Yukari (12 pieces) 1,000 yen+tax
Yukari, prepared with shrimp and roasted carefully for an added savory aroma, is the most popular item at Bankaku Sohompo.
[Te&Cha]
Kyo no Takumi FUKUJUEN Matcha (40g) 2,000 yen+tax
*Also available in 20g and 100g.
[Mura no Ume]
Pickled Nanko plums from Kishu (pitted and dried) (80g) 700 yen+tax
Pits were carefully removed before drying these fine Nanko plums from Kishu for an intense flavor.
[HACCI]
Honeycomb (340g) 7,000 yen+tax
This honeycomb was harvested directly from the hive. Enjoy it as is to appreciate the naturally high nutritional value.
[Karuizawa Ibulu]
Smoked soy sauce (70mL) 871 yen+tax
This soy sauce is prepared by maturing domestic ingredients and natural water in Japanese cedar barrels for one year. It is then smoked at a low temperature for two days to add a strong flavor reminiscent of dashi stock.
[Ogurasanso]
Ogura Yamashunju (20 bags) 1,500 yen+tax
Each bag contains eight types of small rice crackers that reflect the inevitable changing seasons and the world of the Ogura Hyakunin Isshu.
[Fukusaya]
Castella (1 go size: 580g) 1,750 yen+tax
Even after mixing, some sugar crystals remain on the bottom of the cake, creating the distinctive texture of this Nagasaki castella.
*Stocks are limited.
*Photos are for illustrative purposes only.

---
VIEW ALL TOPICS