Venue
Basement 1st Floor Food hall of Takashimaya, Yokohama
AUDREY
Glacier 5 pieces: 715 yen+tax
AUDREY is a specialty strawberry sweets store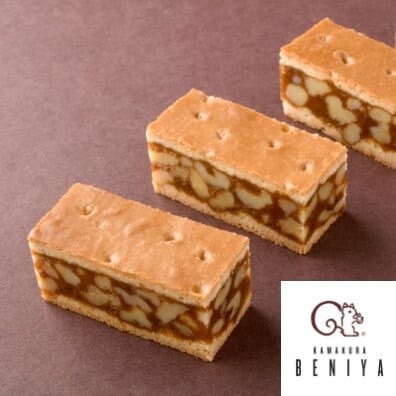 Kamakura Beniya
Kurumikko 8 pieces: 1,080 yen+tax
Kamakura Beniya was established in 1954, with the belief that "there is no limit to what we can offer through sweets."
Bashamichi Jyuban-kan
Biscoito 9 pieces: 1,650 yen+tax
Assortment of three types of signature biscuits: lemon, chocolate and peanuts.
Yokohama Ariake Honkan Harbour's Moon
Yokohama Harbour Double Marron 5 pieces: 825 yen+tax
With the enthusiastic support of local residents, we introduce exotic confectionaries that reflect the unique culture and history of Yokohama to people across Japan.
Saganoya Honten
Sagano Fue 5 pieces: 600 yen+tax
Saganoya Honten in Yokohama, a rice cracker specialty store, was established in 1902 and has a history spanning over 110 years.
Kayanoya
Kayanoya Dashi 30 packets: 1,800 yen+tax
Dashi packets, prepared with exclusively selected domestic kelp, bonito flakes and shiitake mushrooms, allow you to prepare quality dashi stock. Simply add it to boiling water and cook for two to three minutes.
Taneya
Dorayaki (pancakes with a chunky azuki bean paste/white bean paste filling) 159 yen+tax
Taneya was established in 1872. They sell seasonal Japanese confectionaries.
La Marée de Chaya
Hayama Carreau de Chocolat 1,000 yen+tax
Chocolate cakes with a hint of orange liqueur baked slowly and carefully.
Shinjuku Takano
Fruit Royale 550 yen+tax
Shinjuku Takano, a long-established fruit specialty store, was established in 1885. They primarily sell cakes featuring fruits.
Kaseiro
Assortment of geppei (mooncake) One box contains 3 pieces: 1,500 yen+tax
Kaseiro is a historic restaurant established in 1939 in Yokohama's Chinatown. The box contains three types of signature and popular geppei (mooncakes): Daigeppei (black paste filling), Kurigeppei (chestnut paste filling) and Gomokugeppei (paste filling that contains nuts).
Kiyoken
Shumai in a vacuum pack 15 pieces: 574 yen+tax
Kiyoken, a long-established shumai seller established in 1908, is renowned for its shumai bento, believed to be the top-selling station lunch in Japan. This type of shumai can be stored at a room temperature for five months from the date of manufacturing, making it perfect to present as a gift.
Ko-cho
Yokohama shumai 100 yen+tax
Ko-cho sells Chinese buns, including bite-size meat buns; dim sum, including gyoza and shumai; and other Chinese dishes.
*Stocks are limited.
*Photos are for illustrative purposes only.

---
VIEW ALL TOPICS